This 4th of July enjoy some American classic cocktails with a twist from your garden. These refreshing drinks are the perfect addition to your backyard barbecue this year.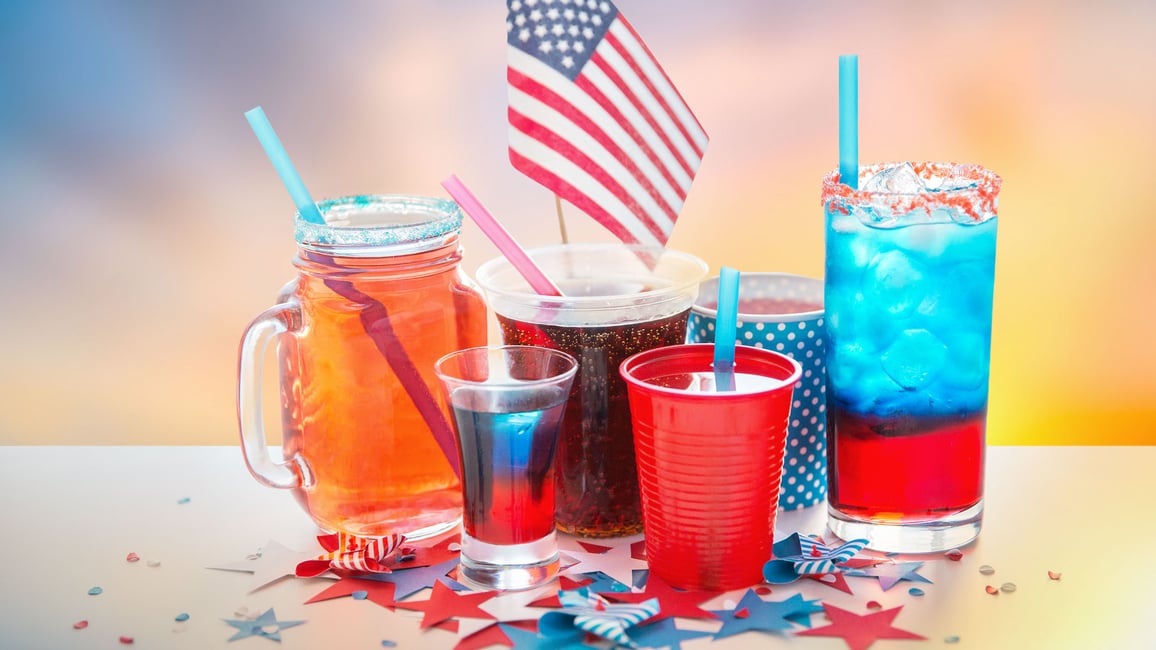 Mint Julep
Developed by high society in virginia, the Mint Julep is now the signature drink of the Kentucky Derby
8 mint leaves
1/4 ounce simple syrup
2 ounces bourbon
mint sprig
Angostura bitters (optional)
Muddle the mint leaves in the simple syrup. Add bourbon to then pack with crushed ice and stir until the cup is frosted on the outside. Top with more crushed ice to form an ice dome, and garnish with a mint sprig and a few drops of bitters (optional).
Old Fashioned
Straight out of Louisville Kentucky in the late 1800s, the old fashion has stood the test of time
1/2 teaspoon sugar
3 dashes Angostura bitters
1 teaspoon water
2 ounces bourbon
Garnish: orange peel & maraschino cherry
Add simple syrup, water, and bitters into a whiskey glass and stir. Place the ice cubes in the glass and pour bourbon over the ice and garnish with the orange slice and maraschino cherry.
Sazerac
Known as the worlds first cocktail, the Sazerac was invented at the Sazerac Coffee House in New Orleans in the 1800s.
Absinthe to rinse
2 ounces cognac
One sugar cube
Three dashes Peychaud's Bitters
Garnish: lemon peel
Rinse a chilled Old Fashioned glass with the absinthe, fill with crushed ice and set aside. In a separate glass, add the cognac, sugar cube (or sub for 1/2 ounce simple syrup) and bitters, stir well. Empty the ice and any excess absinthe from the prepared glass, and strain the drink into the glass, and garnish with the lemon peel.
Lynchburg Lemonade
Created in Alabama in the 80s, the Lynchburg Lemonade was actually the subject of a court case against the Jack Daniel Distillery for allegedly stealing the recipe.
1 ounce Jack Daniel's Tennessee whiskey
1 ounce triple sec
1/2 ounce lemon juice, freshly squeezed
1/2 ounce simple syrup
4 ounces lemon-lime soda
Garnish: lemon wedge
Combine Jack Daniel's, triple sec, lemon juice and simple syrup shake with ice. Strain into a highball glass filled with fresh ice. Fill the rest of the glass with lemon-lime soda and stir gently to combine. Finally, garnish with a lemon wedge.
Arnold Palmer
Arnold Palmer is regarded as one of the most famous and charismatic American Golfers in history. After a hot day on the course he would always request an iced tea lemonade, so now the iconic drink is named after him.
5 oz prepared iced tea
5 oz lemonade
You can brew some tea of your choice, or make homemade lemonade as you wish. Adjust the sweetness to your preference and enjoy!