Thermacell Repellents Reveals The All-New EX90 Rechargeable Repeller
For 23 years, Thermacell Repellents has consistently designed and manufactured the most sought-after mosquito solutions for protecting outdoor adventurers, patios, lawns and more. Since their market inception in 1999, Their mission includes liberating people who love the outdoors from the harmful effects of insects, and through the years they have achieved this milestone of environmental protection through various products and repellent formulas.
Recently, with the development of their new product: the EX90 Rechargeable Mosquito Repeller, Thermacell continues to upgrade their protection, portability, and progressiveness by providing a repellent that supplies consistent performance at any elevation and in any environment.
The release of the EX90 Repeller provides consumers with the following: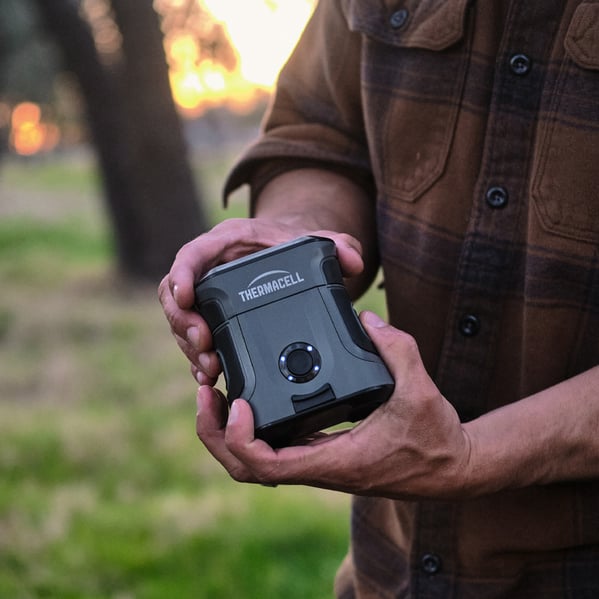 EXTENDED MOSQUITO PROTECTION--
ZONAGE –

Thermacell repellents provide protection to customers by effectively creating a 20-foot zone of coverage over any landscape to ensure that mosquitoes are stopped in flight rather than on skin.

ACCESSIBILITY –

The repeller is fully functional and readily available for usage directly out of the packaging. Its simple controls always make it easily accessible for all demographics.

ADVENTURE READY –

Thermacell has long made its presence known as a reliable source for outdoor insect protection and the same is no different with this product. Its portability and ability to be hung from any tree or tent in any outdoors setting bolsters its outdoor traveling usage for campers, hunters, or hikers. The end-goal is providing powerful protection to make the outdoors safer and more enjoyable for all.
HEAT-ACTIVATED TECHNOLOGY--
RECHARGEABLE –

Each EX90 Repellent is completely rechargeable with the provision of a lithium-ion battery in each device, providing up to 9 hours of continuous mosquito protection.

DURABILITY –

The devices are deemed durable and compact as well, accounting for their IP54 protectiveness rating against various environmental conditions such as water and dust. The EX90 also comes with an easy-to-grip rubber over-mold and a spill-proof locking mechanism that allows for less accidents when replacing cartridges or transporting the device itself.
EFFECTIVELY REPEL (NO SPRAY OR SCENT)--
NO LOTIONS –

With the effectiveness of each repellent working tangibly to provide safeguarding against insects of all sorts, the liquid repellent formula works without producing any citronella odors or the need for skin contact at all.

MAX PROTECTION WITH SIMPLICITY –

Guaranteed with the usage of the EX90 Repellent is the provision of max protection within 15 minutes of utilization, easy-to-replace cartridges, and no smoke, flames or harsh odors expelled in the air to defend against insects
ADVANCED REPELLENT FORMULA--
INDEPENDENTLY TESTED –

All Thermacell rechargeable platform repellent uses Metofluthrin as the active ingredient and is closely tested in facilities and EPA reviewed to ensure that customers are provided with the utmost safety and ultimate effectiveness when used.

PROTECTION AGAINST TRANSMITTERS –

The formula is proven to protect against even the toughest mosquitoes, even ones that carry Encephalitis, West Nile Virus and Zika Virus.

FOR USE ANYWHERE –

The EX90 is proven to be people and pet friendly for at home use, as well as air travel-friendly for transporting across airlines as well.
THERMACELL GUARANTEE--
EXTENDED WARRANTY –

The warranty applied can stay active for up to 3 years with registration, allowing for more than 30 months of insured protection and usage.

PRICE –

At a reasonable price of $49.99, the EX90 is completely a must-buy for all the impactful features outlined above about the product itself.

INCLUDED:

Includes repellent, 12-hour refill, USB charging cable, and lanyard with carabiner